Animating is hard
April 2, 2023 | Design

So... 

For a while I've been working on a pixelart animation for a while.

It has this cool "jungle vulcano"-vibe going on and will be probably about 20 frames long. Why? Why not, I tell you.

Here's a frame from that animation btw. 😉

subject to change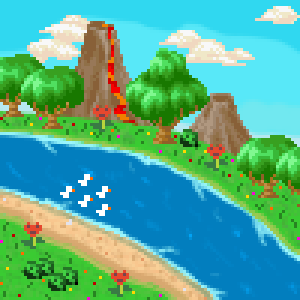 This isn't even my first rodeo in this domain but I think that's my most extensive animation so far and I wanted to share some little insights on what I learned here... Btw. Absolute amateur here, I'm just doing this for fun and documenting this to help me keep those things in mind for the future.
Even if you only change small little things inside your frames, these things cumulate and also affect other elements. This drastically increases the time spent for each frame.
Even though pixelart is all about detail and making the most out of every single pixel, you can get away pretty well with some "quick smearing" in certain areas. See the river for example, or also some flames later on in the animation. These things also don't have super hard edges in real life. And this "smear" kinda recreates that. (Also that makes drawing easier, since you can do that just with a few strokes using the brush tool.)
Don't think too much on certain elements. Again, a bit of a counter-intuitive thought. But just doing some quick outlines and then refining those quickly drawn elements make them a lot better and more "natural" in my personal experience.
You can easily be a bit drastic with the changes between frames. Most of the time you won't do super smooth 120FPS animations... 😅 In this case embrace the "un-fluidity" a bit more.... not too much of course
Be a bit random. See this river for example... Or the vulcano with it's lava... Those types of elements are really great to build in some randomness. Not in every frame. It should follow a certain "structure" on how it behaves... But that doesn't mean the lava/smoke can't change up a bit. Or the river can flow a bit differently. This makes the animation a bit more exciting.
So yeah... I don't think I have to say anything else. I'm just happy that I've nearly finished it up right now... Took way too long lol. 
And it was good, that I learned some things in my quite mediocre artistic endeavors. Hope you did too. 
See ya.